Your business is to make money.
We're here to help you save it.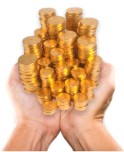 Taking care of your business doesn't need to be a costly effort. Whether you're a one-man business empire or a career executive stepping up on the corporate ladder, having someone to assist you can make the difference from being a startup to a superstar. In today's world, however, hiring and keeping full-time employees to keep your business running can be both expensive and inconvenient. Doing everything by yourself is no good either, as you will be spreading yourself too thin on so many tasks, leaving you stressed and burned out.

Want a better solution? Hire a Virtual Assistant.
Distant Support is here to help, and we're just a click away!



What is a Virtual Assistant?

A Virtual Assistant (or VA) is a highly-skilled professional who provides administrative, technical and/or creative assistance to business owners or other professionals. Virtual Assistants have a variety of business skills in the field of administrative, executive, marketing, secretarial, customer support and others that can help you become more effective and productive in your business or career.



What can Distant Support Virtual Assistants do for you?

Distant Support Virtual Assistants can provide you with the virtual services you need, freeing your valuable time and resources to help you focus more on what you do best in your business or career. Get the assurance and peace of mind you need with fast, cost-effective and reliable virtual assistance so you can work better, feel better.
With Distant Support Virtual Assistants, you're in good hands.



Professional, dependable business support.
Where you want it, when you want it.
That's Distant Support you can rely on.